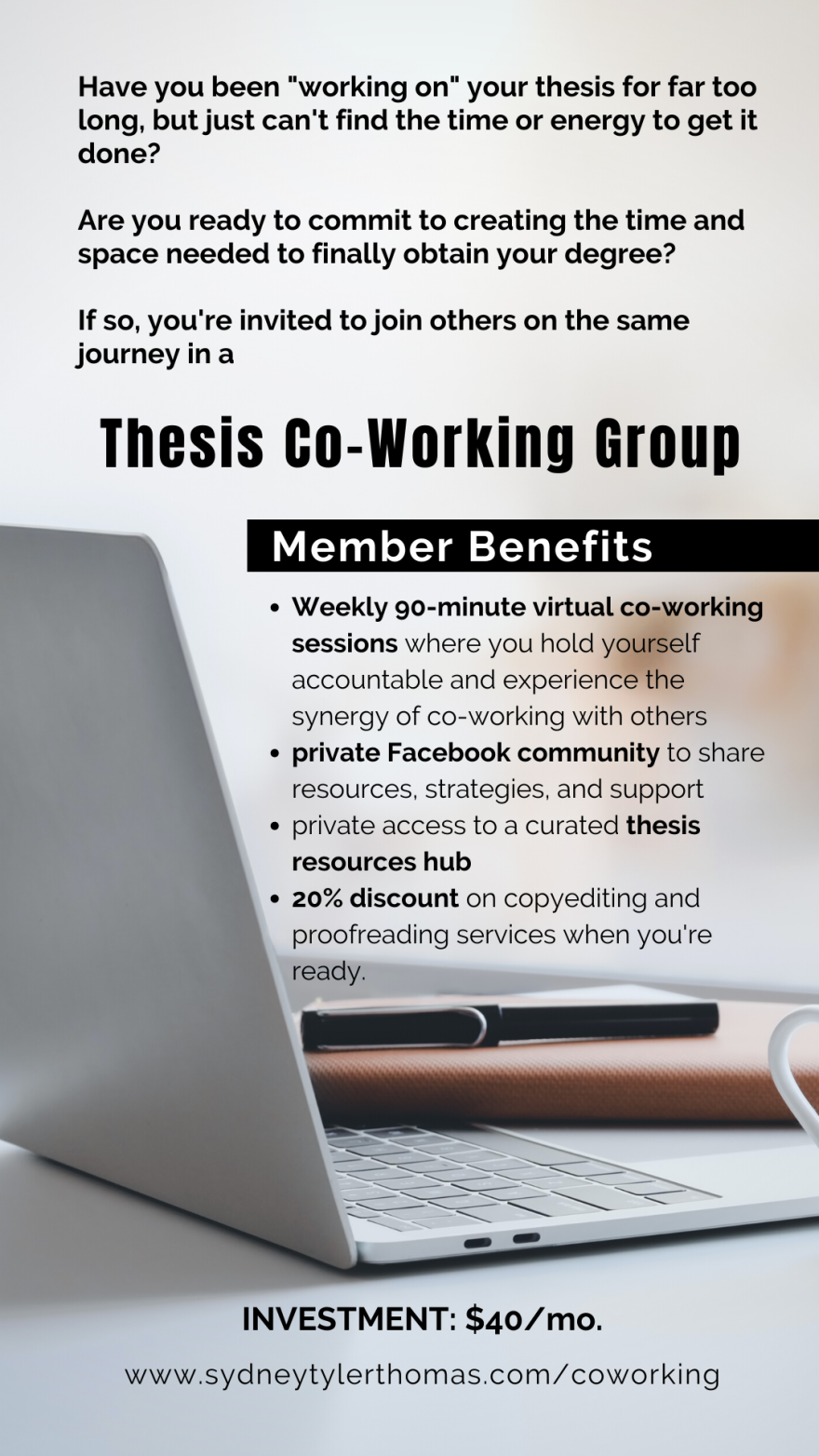 What happens during a co-working session?
The sessions are held weekly, Monday evenings from 7:00 - 8:30pm ET via GoogleMeet. In order to make the most of everyone's time, each participant will be invited to share (in as few words as possible), what their intention is for the session. Those who want to can also post their win(s) in the chat box at the end of each session.

The purpose each session is to hold a space for you each week to commit to focusing on your thesis, whether it's reading, researching, or writing. You're working alone... in a group.

Participants work independently with their microphones muted. While participants can certainly turn off their cameras during the sessions, leaving them on provides an additional layer of social accountability. It's hard to cheat if everyone else can see you.

And of course, looking up and seeing other participants working productively can also lessen the urge to get distracted.

How should I prepare for a co-working session?
It's best to spend some time before each session setting your intentions on what you plan to accomplish during the session. If you know what you plan to work on, you can jump right in.

For example, if there are books or online journal articles you want to read, have the book(s) nearby and the URLs for the online material bookmarked.

Depending on where you are in the process, you may be able to set specific goals for each session, such as read # journals, identify # new resources to investigate, write # pages, complete a chapter, check citations, etc. If you can create a goal, great, but if not, don't worry, the most important thing is spending focused time on pursuing the goal of completing your thesis.

Plan to be in place with whatever materials you need a few minutes before the session starts, so you'll be able to get off to a great start. Bring water, coffee, tea, or whatever you choose to stay hydrated so you won't be distracted by going to get something to drink. That goes for snacks too!

What are the benefits of a virtual co-working session?
With so many competing responsibilities and other distractions, it's easy to get so busy focusing on other things that we lose sight of the goal of obtaining the degree we've worked so hard to earn. It's not at all uncommon to hear stories of how people have been "working on" their thesis for 2, 3, or 5 years or more... and usually they're still not done.

Co-working sessions make it easier for you to make your thesis (and your personal/professional growth) a priority. You've got a regularly scheduled meeting time which you should definitely add as a recurrent event on your calendar.

Other benefits of co-working include:

an additional layer of accountability;

an opportunity for uninterrupted deep work;

increased productivity; and

a sense of community.

What's the cost and how does billing work?

The investment is $40/month, auto-billed monthly and payable by PayPal. There's no set number of months to commit to. You can cancel at any time, for any reason, by sending me an email at least three (3) days before your next billing cycle and I'll stop payments. That means that your cancellation will be effective beginning with the next billing cycle. There are no pro-rated refunds for mid-cycle.

Life happens. I know. Sometimes things come up that legitimately derail our plans, including working on our thesis. That's why you can temporarily halt your membership, or cancel and then re-start when you're ready.

Keeping it simple.

Have more questions? Feel free to reach out to me by email at:
sydney@sydneytylerthomas.com